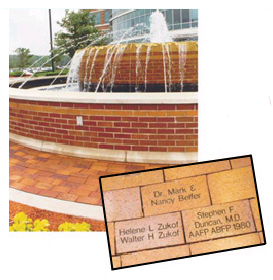 Now you can honor your loved one and help with the restoration of the Jones Park fountain!
This fund raising campaign benefits the Emma L. Wilson King Foundation (herein referred to as The Foundation) programs and allows you to help in the restoration of the Municipal Fountain at Jones Park. The fountain is nearly sixty-five years old and in need of major repairs. The East St. Louis Park District has granted The Foundation "trusteeship" for the fountain's restoration and its basic maintenance once the project is complete. The Foundation will rename the fountain the Emma L. Wilson King Memorial Fountain at Jones Park Lagoon. The late Mrs. King was an East St. Louis resident and mother of twelve children who cared about the community and the outdoors. Fundamentals of a solid education for her children and giving back to the community were important aspects of her life. It is for this reason, The Foundation has chosen the historic fountain as an inaugural project.
Individuals, families, churches, organizations, and companies now have the opportunity to leave their mark and also help to restore a major jewel in the East St. Louis Park System. In 1961, the City of East St. Louis celebrated its centennial as an All American City. Since then, the community has seen a sharp decline in population and in key aspects of the vital business and industrial sector which once supported public education and recreation. Local philanthropic support has been drastically curtailed for community programs as state and federal aid programs have attempted to provide a monetary safety net for the community.
The Emma L. Wilson King Foundation plans to serve as the model community agent for those willing to assist in the renewal of the park system. You are invited to purchase an engraved commemorative brick which will become a permanent part of the fountain's plaza grounds. Bricks may be created in your name, in the name of another family member, in memory of someone, an event, date, favorite quote or organization/corporation. These bricks will be prominently displayed on the north, south and west sides of the fountain. Your purchase shows your concern for urban green space and the people who will utilize it.
Your personalized, engraved message will be a visible tribute for generations. Looking for your bricks at the Memorial Fountain will be a peaceful and fun way to spend an afternoon in the restored jewel of the East St. Louis Park System. Also, your cost for each brick is 100% tax deductible.